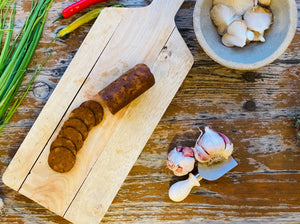 Our salami roll is perfect with crackers or in a sammie. A peppery kick means it goes great with any of our cheeses.
Try our favourite combo - salami and camembert on seed crackers.
Ingredients: gluten, soy sauce, canola oil, tomato paste, miso, sugar, vinegar, onion, garlic, liquid smoke, salt, pepper, spices
250g roll
Available for shipping
Product best before is 10 weeks from date of production.