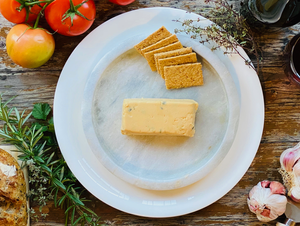 A flavour-bomb of a cheese! Perfect for sandwiches and wraps, a cheese board or burgers. And of course... straight from the packet.
Ingredients: soy milk, tapioca flour, coconut oil, nutritional yeast, kappa carrageenan, tomato paste, mustard, onion, chives, salt
Contains soy. May contain traces of gluten and nuts.
Available for shipping
130g. Product best before is 10 weeks from production date.