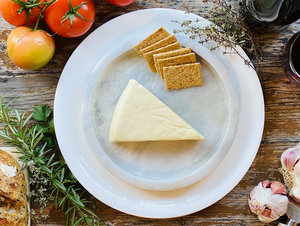 Creamy Camembert with a hint of truffle oil. Soft enough to cut with a cracker, it won't last long on your cheese board! Amazing on its own or try it baked in filo.
Ingredients: soy milk, tapioca flour, nutritional yeast, miso, vinegar, coconut oil, kappa carrageenan, white truffle oil, salt
Contains soy. May contain traces of gluten and nuts.
Available for shipping
For in-store and pickups, best before is 10 days from production date.
For shipping, best before is 4 weeks from production date (due to different packaging).